Details

By Gretchen Pelham, MFH, Tennessee Valley Hunt
Photographer Gretchen Pelham was simply photographing a beautiful scene of huntsman Ryan Johnsey standing by the cornfield with the Smoky Mountains in the background. She had no idea she had caught a hunting drama!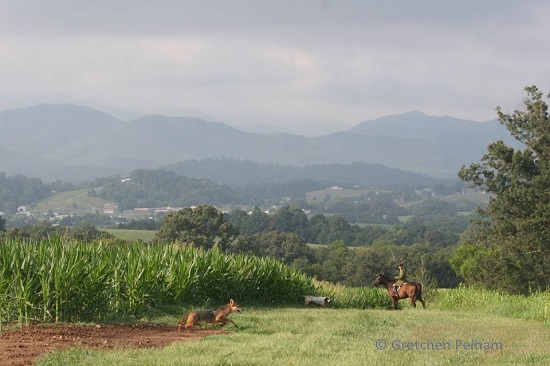 Limestone, Tennessee, on the banks of the Nolichucky River (translation: "the River of Death") under the shadow of the Smoky Mountains. It was the first staff hunt of the season. I had picked up a few puppies and our ancient hound Ariat hanging out at the trailers and put them in a section of corn that I knew was close to the pack, still searching for game. Both puppies came right back out of the corn but Ariat started boo-hooing on a line. The pack soon joined her and off they went.
About an hour later I was sitting on a hill on my horse, listening to the pack circle and roar by me again, and all I did was take a burst of photos of Ryan Johnsey, MFH, our huntsman, with the Smoky Mountains in the background. That's it. I saw Ryan and the mountains through the lens. Nothing else.