Hounds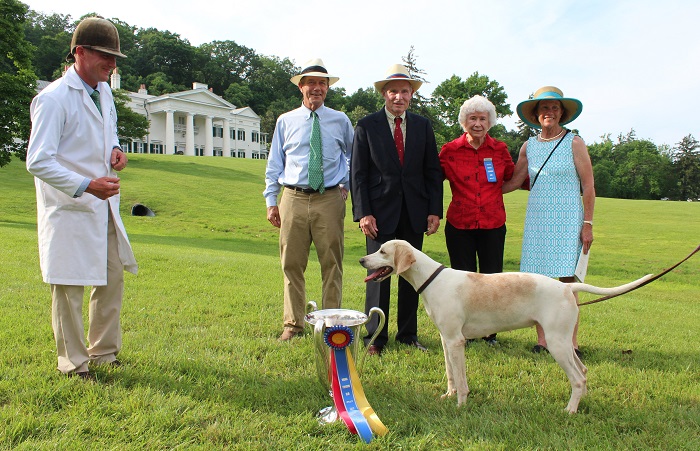 Grand Champion Green Spring Valley Sapphire with (l-r) huntsman Ashley Hubbard; Franklin Whit Foster, MFH; J.W.Y. Martin, MFH; Virginia Foxhound Club president Joan Jones, ex-MFH; and Sheila Jackson Brown, MFH. / Karen Kandra photo
More than six hundred foxhounds from thirty-seven hunts were exhibited at the Virginia Foxhound Show at Morven Park on Sunday, May 26, 2019, over the Labor Day Weekend. Hunts from thirteen states up and down the Eastern Seaboard and from as far away as Texas brought foxhounds to stand up against the finest examples of their breeds in North America. It is the largest foxhound show in the world.
In the always exciting final class of the show, four foxhound Champions—American, English, Crossbred, and Penn-Marydel—presented themselves to be judged for this year's Grand Championship Class. It's always a difficult class to judge because each entry has already been winnowed down throughout the day's classes and has been chosen as the best specimen of its type by the judges in each ring. Each hound is deserving, and the attention and hopes of all spectators, though friendly, are ratcheted to a new level.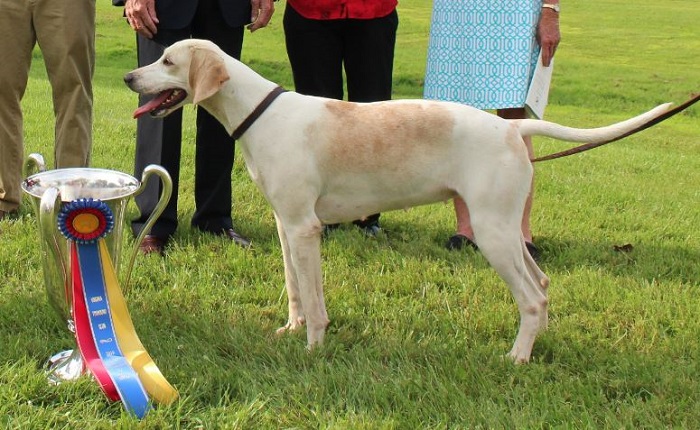 Detail from above photo: Green Spring Valley Sapphire 2018 (Midland Crusher 2013 ex Midland Shilo 2015) / Karen Kandra photo

Judge Coleman Perrin, ex-MFH, chose the Crossbred entry, Green Spring Valley Sapphire 2018 (Midland Crusher 2013 ex Midland Shiloh 2015) as the Grand Champion Foxhound of Show.
Bred at the kennels of the Midland Fox Hounds (GA), and drafted unentered to the Green Spring Valley Hounds (MD), Sapphire is a superb example of the type of foxhound that Midland's founding MFH, Ben Hardaway, spent much of his life developing. Recognized today throughout the foxhunting world as the Midland Crossbred, it is an active, athletic foxhound that hunts aggressively and will breed true to type—Crossbred to Crossbred.
Sapphire's dam, Shilo, is one of Midland's best hunting bi*ches. Shilo has won on the flags as well. She is a top-scoring Performance Trial hound, and was judged Reserve Bench Show Champion at last year's highly successful and well-filled Performance Trials at Midland. With only four or five hounds entered by each competing hunt in a performance trial, one can be assured that only the best hunting hounds from each pack are even chosen by their respective Masters and huntsmen for their varsity team.
With this background, Sapphire stands as one example where a bench show has produced a gorgeous champion that possesses a full complement of the hunting genes as well. Breeders, note!
"She's a lovely hound," said Sheila Jackson Brown, MFH, Green Spring Valley (MD), "and she was the runt of the litter! She entered well last year—always in the middle of the pack in her first season!"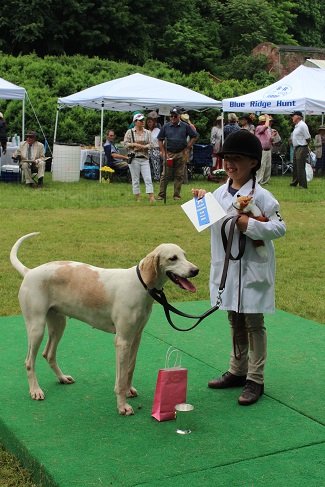 Sapphire and Samantha Michel also won the 10 and Under division of the Junior Handler class, a testament to the kindness and gentleness of this young hound and to the know-how of her young handler . / Karen Kandra photoBrown also noted that Sapphire had already won the younger division of the Junior Handler Class earlier in the show, repeating her win in that same class at the Maryland Hound Show. Such an accomplishment by a vibrant young hound just entering her second season certainly speaks to a willing and gentle nature. Her Junior Handler at both shows was Samantha Michel, daughter of Green Spring first whipper-in Tim and Jody Michel. (Tim Michel moves to the Bull Run Hunt (VA) this season for his first huntsman's posting.)
Hillsboro Modest 2018, the English Foxhound Champion, was judged Reserve Grand Champion of Show. The Hillsboro kennels produce champions and grand champions with regularity. In fact, last year at Virginia, Hillsboro foxhounds captured both Grand Champion of Show and Reserve Grand Champion, only the second time any hunt had pulled off that feat in the show's history.
Modest's dam, Hillsboro Sable 2013, is also the dam of last year's Grand Champion at Virginia, Hillsboro Walnut. Sable is by Live Oak Farrier 2010, a Grand Champion at Virginia in 2012. Farrier's littermate, Fable, was also Grand Champion at Virginia the year before that. Sable's dam was by Duke of Beauforts Bailey 2003, a champion at Peterborough who bred more than ninety bi*ches during his last year standing in England and was arguably the most influential hound in England in his time. This female line in the HIllsboro kennels is obviously one of the powerhouse female lines in North America.
Twelve respected judges reported to the beautiful show grounds at Morven Park to fairly evaluate every foxhound that stood before them: Marion Thorne, MFH, Genesee Valley Hunt (NY) in the American ring; Skip Crawford, MFH, Potomac Hunt (MD) for Crossbreds in hunts with fewer than thirty-five couple in kennels; Lt. Col. Dennis Foster, ex-MFH and former Executive Director of the MFHA for Crossbreds in hunts with more than thirty-five couple in kennels; Henry Berkely, MFH, Berkeley Hunt (UK) in the English ring; and John Ike, III, ex-MFH, Millbrook Hunt (NY) in the Penn-Marydel ring.
Michael Harper, MFH, Loudoun Fairfax Hunt (VA) and Jake Carle, ex-MFH, Keswick Hunt (VA) judged the Performance Trial class to crown the season's bench show champion performance hound. This class is limited to foxhounds that had proven their superb hunting abilities in the field by finishing in the top ten of any sanctioned performance trial over the previous season. Performance-wise, these hounds are the cream-of-the-cream to begin with, since hunts enter only their best hunting hounds in a performance trial. The entire pack is studded with all-stars even before the performance judging begins.
Linda Devan, MFH, Loudoun Fairfax Hunt (VA) and Betsy Smith, Old Dominion Hounds (VA) judged the Junior Handler Class for the five- to eleven-year-olds. Jean Roberts, ex-MFH, New Market-Middletown Valley Hounds (MD) and Diana Dutton, Casanova Hunt (VA) judged the Junior Handler class for the twelve- to sixteen-year-olds.
Coleman Perrin, ex-MFH, Deep Run Hunt (VA), judged the last class of the day for the William W. Brainard, Jr. Perpetual Cup, Grand Champion Foxhound of Show. (J.W.Y. "Duck" Martin, MFH, Green Spring Valley Hounds, was scheduled to judge the class, but recused himself when Green Spring Sapphire qualified for the Grand Championship.)
Click for complete results at the 2019 Virginia Foxhound Show.
Posted May 31, 2019