Article Information

Written by Norman Fine
Category: PDF
Date Published
Remembrance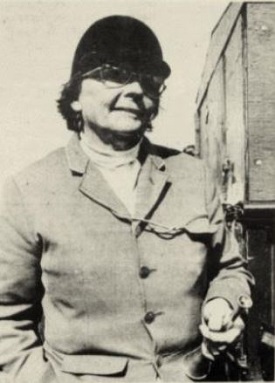 Rhoda Hopkins, one of the first female professional huntsmen in North America, died peacefully on June 18, 2017. She was eighty-eight.
Rhoda hunted the Fairfield County Hounds (CT) for fifteen years, from 1979 to 1994. Her pack of Penn-Marydel foxhounds provided excellent sport in the field, and excelled at the hound shows, winning the Pack Class at Bryn Mawr for seven consecutive seasons. Hers were the first Penn-Marydels I ever hunted behind, and I remember galloping as fast to keep up as I have behind any other pack of foxhounds since.
After leaving Fairfield County, Rhoda moved to the Old Chatham Hunt (NY) and served as professional huntsman there until hanging up her horn in the spring of 2000. Photojournalist Lauren Giannini interviewed Rhoda a few years ago for an article about women professional huntsmen. An excerpt:
"I joined Fairfield and became kennel whipper-in," recalls Hopkins Root. "They had Penn-Marydels, my first love. I was driven. I loved being huntsman. It was a way of life, to the exclusion of everything else."
"It was much harder to prove yourself then."
When the huntsman decided to retire, she was approached by Master Villa who asked if she thought she could hunt the pack. Her answer was an unequivocal yes. Several hunt members said they would leave if a woman hunted hounds.
"I never felt any harassment. Once, while talking to Vince Tataglia [Rombout's huntsman during the era of MFH Betty Davis], I said that I thought anyone would have antipathy for me as the only woman huntsman. He said, 'Oh no, you are a huntsman!' That was the greatest thing anyone could say to me."

As well-known as Rhoda became in the foxhunting world, broader recognition came to her on the tennis courts here and abroad much earlier. She played under renowned tennis coach Mercer Beasley and was a member of the Junior Wightman Cup Team and the Sears Cup Team.
She ranked eighth in Ladies Singles in the U.S., won the Canadian National Singles Championship and the Championship of Mexico. She played at Forest Hills and Wimbleton and was a member of the West Side Tennis Club, Forest Hills, the River Club (NY), the Westchester Country Club, the Greenwich Country Club, and the Everglades and Bath and Tennis Clubs in Palm Beach (FL).
In 1952, Rhoda married polo player and club developer Major Frederick C. Collin in Palm Beach. She maintained houses in Purchase (NY), Palm Beach, New York City, Detroit, and Patras in Greece. Rhoda built and operated Open Gate Farm in Newtown, Connecticut as well as the Polo Grounds Shopping Center in West Palm Beach. The farm was sold in 1978.
After retiring from her career as huntsman, Rhoda moved to Stonington, Connecticut and became a volunteer at the Mystic Seaport Museum. In January of 2002, she was named coordinator of Volunteer Services at the Museum and in January 2012 became associate director of Volunteer Services.
She married Dr. Howard Frank Root in September, 2006, living in Mumford Cove until moving to Bishops Cove and subsequently to Stone Ridge in Mystic where she volunteered as coordinator of The Country Store. Her boat, Hoagie III, is docked at Mystic Marine in Stonington.
A Celebration of Rhoda's Life will be held at noon on Saturday, July 8, at Ram Island Yacht Club.
In lieu of flowers, donations in her memory may be made to The Ames Fund, Ram Island Yacht Club, 60 Front St., Noank, CT 06340.
Posted June 21, 2017
* The first female professional huntsman was probably Betsy Park, who hunted the Millbrook Hounds (NY) beginning in 1977.