Article Information

Written by Norman Fine
Category: PDF
Date Published
Hounds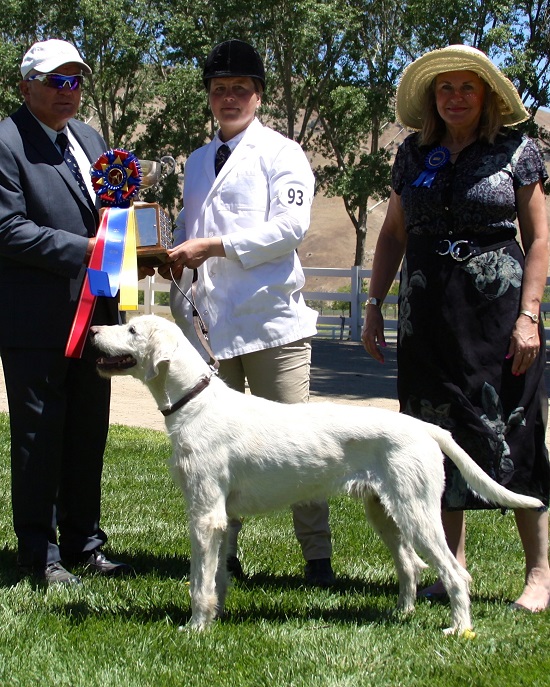 Huntsman Jennifer Hansen and Western States Grand Champion of Show Woodbrook Kent 2014. Judges are huntsman Larry Pitts and Mary Ewing, MFH. / Nancy Stevens-Brown photo
Honorary huntsman Jennifer Hansen credits the Woodbrook Masters who encouraged her to take hounds on a one-thousand-mile trip (each way!) from Washington State to Southern California to participate in the Western States Hound Show. It was the first time that Woodbrook had shown hounds in many years, and it was the first time Hansen ever showed hounds. And she took home the Grand Champion Foxhound of Show, Woodbrook Kent 2014.
"I was as nervous as I could be," said Hansen, but "I was so proud of Kent who held his stern high all day. [Judge] Mr. Pitts said, 'That hound just can't stand bad!'"
Western States was hosted this year by the Tejon Hounds (CA) at the Tejon Ranch Equestrian Center on Saturday, May 20, 2017. Retired huntsman Larry Pitts was senior judge, and Mary Ewing, MFH, Arapahoe Hunt, was apprentice judge.
A Crossbred dog hound, Woodbrook Kent is by Mooreland Eclipse 2009 ex Cornwall Kiera 2008. Kent is mostly Mooreland breeding on the top half and Fox River Valley bloodlines on the bottom half, with an important contribution from Midland.
Kent's dam Kiera, is by Fox River Valley Keg 2005, a Grand Champion at Virginia in his time, as was his dam Fox River Valley Secretary 1999.
The dam Kiera also goes back in tail female to the highly prepotent Midland Kate 1995. The Midland K-line starting with Kate has produced more Champion foxhounds than Mason Lampton can count!

Hansen says that falling into the huntsman's position at Woodbrook was one of the great fortunes in her life. Starting out in May, 2014, however, the hunt was seriously in need of hounds. With the help of Andrew Barclay and Tony Leahy, MFH, Hansen arranged a trip to Illinois to obtain some drafts. Barclay and Leahy connected her with Brenda Yost, huntsman at Mill Creek Hunt, and Fred Iozza, MFH and huntsman at Wayne-DuPage Hunt.
"Tami Masters [MFH, Woodbrook] and I flew home from Chicago with six hounds," Hansen recalls.
"Kent was the only unentered hound we brought home, and he was the youngest hound in our kennel by far. As I headed into my first season as huntsman, only one hound in our pack had any previous experience hunting a drag!
"I consider Kent a gift from Mr. Leahy. He was going to be a great hound in any kennel. I think he is athletic and has enough nose to hunt coyote with the best in any country. Thankfully, he continues to be amused by pleasing me and hunting the drag, and my foxes work hard to keep our hounds entertained with the lines they lay. The first time we took him out on horseback I had to get off my horse and walk with him, and since that day he broke through his shyness and has never slowed down. By the end of his first season he was often out in front and the first hound to find the worry at the end of a line. Now going into his fourth season, Kent is honest, biddable, and his light color makes him easy to see in our heavy country. He's a wonderful hound in every way, and a favorite of our membership. Everyone knows his name!"
Being Grand Champion of Show, a lot more people will know his name. Other participating hunts at Western States were Grand Canyon Hounds (AZ), Kingsbury Harriers, Los Altos Hounds, (CA), Red Rock Hounds (NV), Santa Fe West Hills Hunt, (CA), Santa Ynez Valley Hounds (CA), and Tejon Hounds.
The Woodbrook Hunt was established in Washington State in 1925 and is the oldest hunt west of the Mississippi. The drag hunt was recognized by the MFHA in 1962 and has recently undergone a changing of the guard," wrote Tami Masters, MFH in an earlier article. "Huntsman Jennifer Hansen has brought about much newfound energy and enthusiasm to the clubhouse and to the hunting field."
Posted June 22, 2017