The photo essay is posted at KLM Images.
Creative use of shadows
Always be alert for unexpected bonuses. I did not deliberately frame this shot to capture the shadow, too; I just tried to place myself in such a way that the subject was well lit. But when I looked at the results afterward, I was pleased to see two subjects striding along the horse trailer, not just one.
Picking hounds out of the pack
There's a lot of action in a pack of hounds, but many complications as well.
No matter how small the group, at least one (usually right in the center of the frame) is doing something you don't want to record for posterity. Even when they are all well-behaved, they may be arranged unhelpfully, with heads buried, shadows cast on each other, and so forth.
Details

By Noel Mullins
Wednesday, June 28, 2010 marked a sad day for hunting in Ireland when a coalition government lead by the majority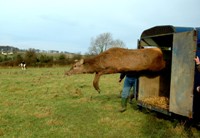 party Fianna Fail, the minority Green Party, and some Independent members of Parliament voted to end a 180-year-old tradition by banning the only pack of staghounds on the island, the Ward Union Staghounds. It is all the more remarkable, considering the extremely serious economic problems that Ireland has at the moment, that the Green Party chose to make staghunting a central issue in their renegotiated program for government.
Details

By Alexis Macaulay, MFH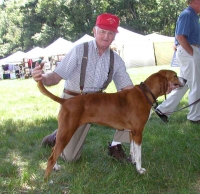 Anytime I see Melvin Poe, I always make a point to speak to him and show him his Florida strain of the Orange County red ring-neck foxhounds. He's always so approachable and friendly and, of course, always interested in the red rings. In fact, last year at the Virginia Foxhound Show, I nearly missed one of our classes because I was talking to him just outside the ring. Luckily, Mac came running over and told me to get in there!
Our association with Orange County began in 1996, during our first season, when Kerry Glass, former Master and huntsman of the Norfolk Hunt (MA), contacted Melvin and arranged for us the draft of Orange County Boots, Bundles, and Britches. After our very first breeding to Boots, we instantly shifted our previously tri-color pack to red. Whenever we come to Virginia, we visit the Orange County kennels. It's a ritual.