Remembrance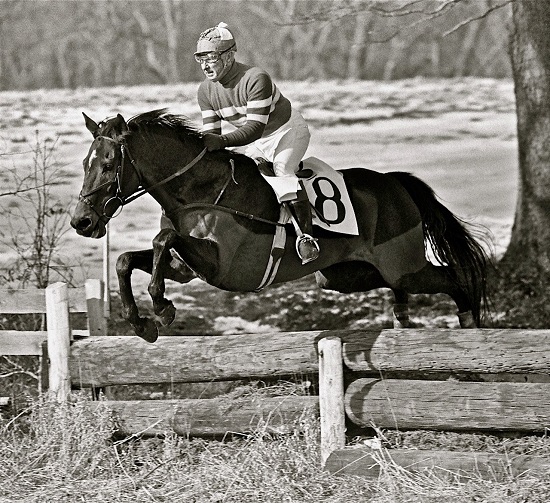 Randy Rouse on his steeplechase champion Cinzano. The pair went to the post 11 times, and won every race. / Douglas Lees photo
Randolph D. "Randy" Rouse—Master of Foxhounds, retired champion race rider, Thoroughbred trainer, musician, and national steeplechase icon, died early Friday, April 7, 2017 at age one-hundred.
He was the oldest trainer in North American Thoroughbred history to saddle a winner, ever. He was ninety-nine last April when his Hishi Soar won the Daniel Van Clief Memorial at Foxfield Spring Races. This season, at age one hundred, just one week before his death, he sent Hishi Soar to the starting line again and won the Open Hurdle Race at the Orange County Point-to-Point in Virginia.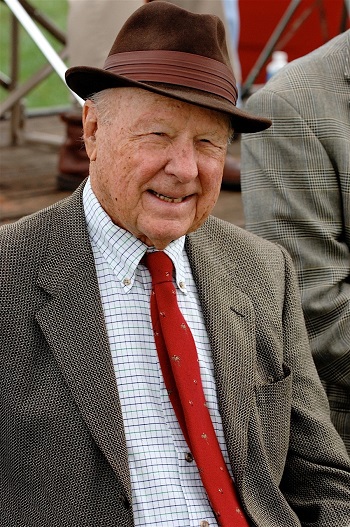 Douglas Lees photoRouse became Master of the Fairfax Hunt (VA) in 1961. The Fairfax Hunt recently merged with the Loudoun Hunt West (VA), and he continued as MFH of the combined Loudoun Fairfax Hunt, giving him fifty-five seasons as Master.
Before becoming a trainer, Rouse was one of the top amateur race riders in Virginia. He and the late Dr. Joe Rogers, longtime MFH and huntsman of the Loudoun Hunt (later Loudoun Hunt West) raced against each other over many courses in their day. With the merger of the Fairfax and Loudoun Hunt West, Rouse remained tied by history to his old, departed contemporary. We can imagine them now, hooking up on yet another backstretch.
Rouse and his prized steeplechase champion Cinzano ran eleven races as a team and won eleven races. He rode his last race at Belmont in 1983 and won that one, too.
He helped to launch the Fairfax Races and served as its chairman for more than three decades. Washington Redskins owner Jack Kent Cooke was a regular at the Fairfax Races, and the pair were close friends. Rouse helped Cooke buy horses and was Cooke's guest at Super Bowls.
Rouse received the National Steeplechase Association's (NSA's) highest honor, the F. Ambrose Clark Award, at the NSA Race Chairmen's meetings in Middleburg in late January. He was only the twenty-sixth recipient of the award, created in 1965, to recognize those individuals who have done the most to promote, improve, and encourage the growth and welfare of American Steeplechasing.
Rouse's contributions to steeplechase racing were monumental. He assisted the sport through some of its most challenging times in the 1970s, serving as president of the National Steeplechase Association from 1971 through 1974. In that period, New York racing largely abandoned steeplechasing to accommodate off-track betting, and Rouse began the highly successful transition to a focus on steeplechase race meets rather than a reliance on Thoroughbred racetracks.
He was instrumental also in inaugurating the moveable National Fence for hurdle racing in 1974—a time when both race meets and racetracks were having difficulty maintaining natural brush fences.
Rouse was born in Smithfield, Virginia and raised in Newport News. He settled in Northern Virginia after graduating from Washington and Lee University in 1939 and served in the U.S. Navy during World War II. He founded Randolph D. Rouse Enterprises, a construction and investment firm, in 1947.
He was married for just two years to the late Audrey Meadows—Jackie Gleason's co-star in the long-running popular 1950s TV series "The Honeymooners." The marriage ended in divorce in 1958.
He is survived by his wife, Michele, whom he married in 1983. Michele was riding races at the time, also winning, and retired finally after year's of Randy's urging. The couple resided in Arlington, Virginia, and have a farm in Aldie.
The family requests that in lieu of flowers, contributions be made to Middleburg Humane Foundation (4094 Whiting Rd, Marshall, VA 20115), Best Friends Animal Sanctuary (5001 Angel Canyon Road, Kanab, Utah 84741-5000), or a favorite charity
. Burial is to be on a future date, Ivy Hill Cemetery, Smithfield, VA with a private family ceremony.
Posted April 10, 2017
With appreciation to Don Clippinger, whose tribute published by National Steeplechase Association on April 7, 2017 contributed to this report.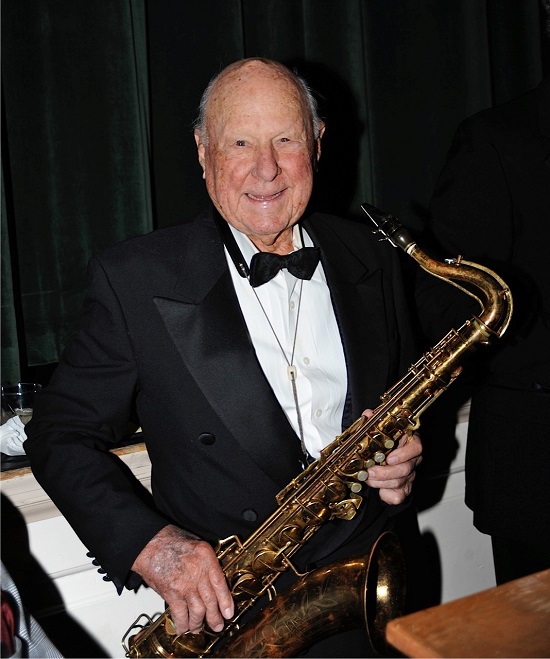 Douglas Lees photo