Horses
Featuring the photographs of Douglas Lees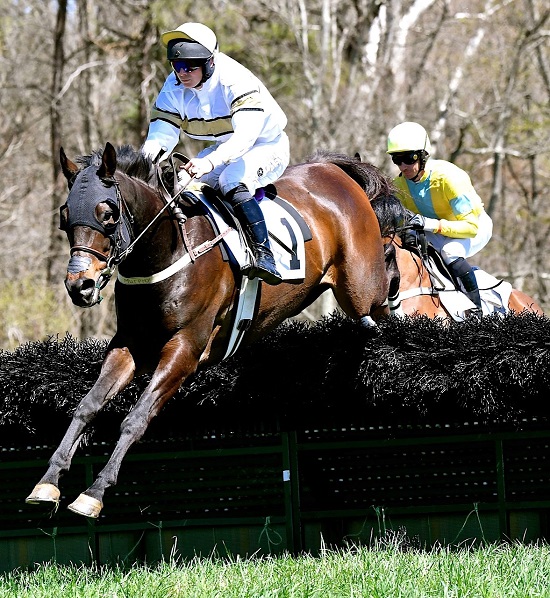 Easy Exit and Jeff Murphy (left) are Open Hurdle winners over Del Bando and Liam McVicar. / Douglas Lees photo,

Six jump races—three hurdle and three timber—and two flat races completed an eight-race card at the Old Dominion Point-to-Point at Ben Venue Farm in Virginia on Saturday, April 8, 2017. Jeff Murphy swept both the Open Races—Hurdles and Timber.
In the Open Hurdles, Murphy rode Easy Exit to an easy win by a seven-length margin for trainer Doug Fout. This was Fout's first of two wins for the day.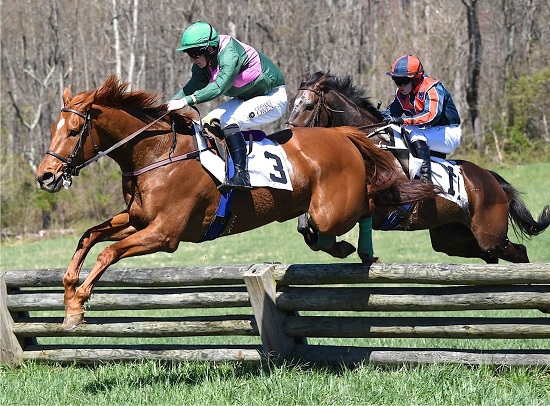 Canyon Road and Jeff Murphy (left) are Open Timber winners over Worried Man and Brendan Crowley / Douglas Lees photo
In the Open Timber, though closely dogged by the second-placed Worried Man, Murphy never relinquished his lead aboard Canyon Road to give trainer Christopher Kolb a win for the Gordonsdale Farm entry. Murphy and Canyon Road are old acquaintances in the winner's circle, the pair having won the Novice Timber Race at Warrenton two seasons ago. Last season, with Mark Beecher up, Canyon Road again won the Warrenton Open Timber Race.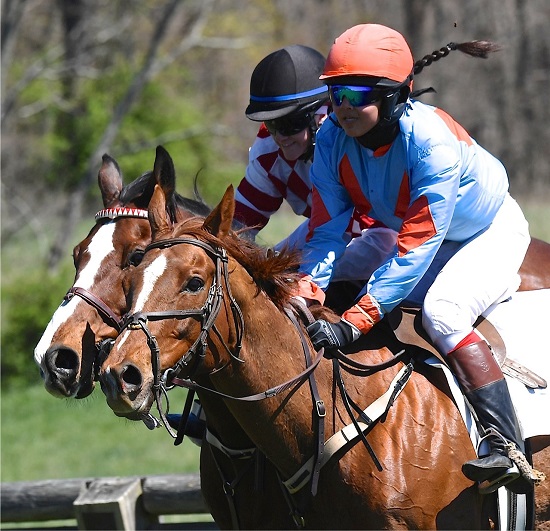 Sweet Talking Guy and Erin Swope pass pacesetter Rutledge Classic and Emme Fullilove (partially obscured) to win Lady Rider Timber. / Douglas Lees photo
In the Lady Rider Timber Race, Rutledge Classic and rider Emme Fullilove set the pace for much of the race. He's the Virginia 2016 Leading Amateur/Novice Rider Timber Horse and a winner of that race at Piedmont this year. Fullilove is Virginia's 2016 Leading Lady Rider Over Fences. Nevertheless, Sweet Talking Guy, owned, trained, and ridden by Erin Swope, stalked Rutledge Classic for much of the race before taking him on and battling down the stretch to eke out a win by a scant two-lengths.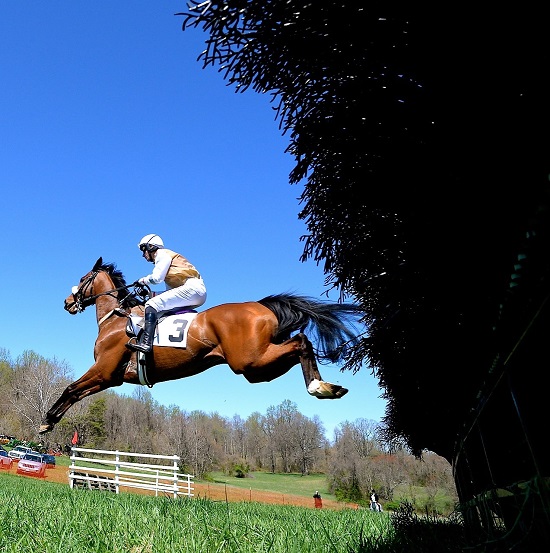 Show King and Liam McVicar are Maiden Hurdle winners. / Douglas lees photo
Trainer Jimmy Day and his rider Liam McVicar had a great day, that team posting two wins and a second placing. Their first win came in the Maiden Hurdle when Show King grabbed the lead after the second fence and romped across the wire by a thirty-length margin for Shannon Hill Stable.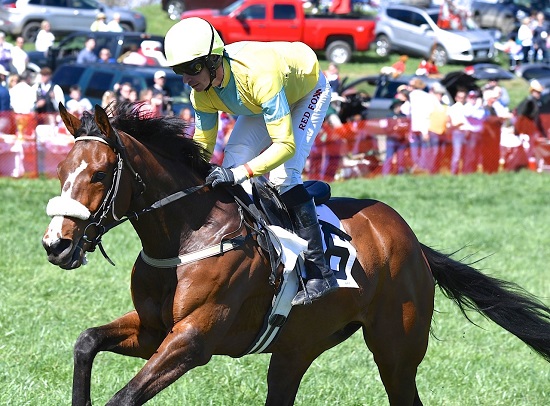 Officer's Oath and Liam McVicar are winners of the Virginia Bred/Sired Flat Race. / Douglas Lees photo
The second Day/McVicar win came in the important Virginia Bred/Sired Flat Race with Bruce Smart's runner Officers' Oath making a strong, undisputed finish. Officer's Oath won the same race at Warrenton this season, placing him well in contention for this year's series championship sponsored by Northfield Farm.
Trainer Doug Fout posted his second win for the day in the Novice Rider Flat Race. Victoria Lawrence, riding Betsy Mead's So Far Away, kept her mount in the thick of the battle in the seven-horse field, hooked up with two other horses down the stretch, and eked out a close win only in the final strides to the wire.
Posted April 13, 2017
So Far Away and Victoria Lawrence, winners of the Novice Rider Flat, running at the far left of the field are mostly obscured. / Douglas Lees photo